Welcome to The CREATE Happy Now Podcast dedicated to giving you a blueprint to start your journey to mastering happiness. Do you desire to have a happier more abundant life with ease and grace? Of course, we all do. Want to find out what mastering happiness could really mean for you? If you are serious about your desire to transform your life and are open minded and ready to make a change then prepare yourself to have your mind, body and soul rocked! Join me, your host, Susan Blanton, a Happiness Coach and Life Coach, as we talk to masters of happiness and their success stories! How they struggled and many of them got knocked down hard, but they found those secrets we all want to know to not only get back on their feet, but to discover a whole new world; an easier happier world!!
Episodes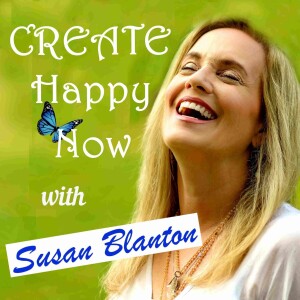 Tuesday Jul 05, 2022
Tuesday Jul 05, 2022
In my last episode, which was a sneak peek into today's episode, I shared how this Mystery Virus hit me hard last year, stopping me in my tracks with a resemblance of depression.  But how could a happiness coach be depressed!  I should be able to work myself out of this.  I had nothing to be depressed about!  My life was going great!  What happened. 
A virus I got in my teenage years came back for a revisit and paired up with another virus and wreaked havoc on me!  This virus is not like the cold, flu, covid, or rash, it just makes you REALLY tired, and you hurt and you don't have the energy to want to do or care about anything.  You don't look sick; but you are!  
This virus is a very old virus and 95% of the world's population has been exposed to it.  Doctors diagnose a vast array of ailments like MS, fibromyalgia, chronic fatigue syndrome, depression, cancer and many more, but the root cause is Epstein-Barr Virus and it likes to bring a friend like Lyme Disease or Bartonella along with it for the ride.  
I knew it had to be physical and so I booked an appointment with my guest today, my most trusted doctor/natural path, Dr. Mack Sloan.  He had treated me and my daughter for years and with things that other doctors missed!  I knew he would have the answers and I was right!  He knew the right tests and treatments and held my hand for a year and I can now say I am back!  
However, I have a different perspective and this was in hindsight a welcomed event. Although, it was a struggle, I learned so much more on how to look at things differently, how to have even more compassion, vulnerability and how to feed my mind, body and soul so much better!  
You will fall in love with Dr. Sloan!  He has saved me once again!  He is fun, down-to-earth, smart and full of passion to heal!  
For more resources check out some books I read: 
"The Epstein-Barr Virus Solution" by Dr. Kasia Kines 
"Cleanse to Heal" by the Medical Medium, Anthony Williams
Check out my YouTube Channel: 
https://www.youtube.com/channel/UCm-t5sMjvxyvNOkeXrEG5rg
Facebook Group CREATE Happy Now: 
https://www.facebook.com/groups/createhappynow
Website: 
www.createhappynow.com