Welcome to The CREATE Happy Now Podcast dedicated to giving you a blueprint to start your journey to mastering happiness. Do you desire to have a happier more abundant life with ease and grace? Of course, we all do. Want to find out what mastering happiness could really mean for you? If you are serious about your desire to transform your life and are open minded and ready to make a change then prepare yourself to have your mind, body and soul rocked! Join me, your host, Susan Blanton, a Happiness Coach and Life Coach, as we talk to masters of happiness and their success stories! How they struggled and many of them got knocked down hard, but they found those secrets we all want to know to not only get back on their feet, but to discover a whole new world; an easier happier world!!
Episodes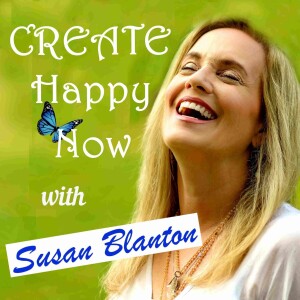 Tuesday Jan 03, 2023
Tuesday Jan 03, 2023
Today's guests: We discuss expanding your consciousness and how to raise your vibration. 
SAHAT VOTAN: 
One of the best things you can do to help others is heal yourself. Cognizing this at an early age, Sahat Votan knew his purpose in life would be assisting humanity reach ascension. This led this cosmic being to mastering healing modalities such as Kundalini Reiki, Synchro galactic Yoga, Dream Sowing, and more. Devoted to providing sacred space for all those who need it, Sahat has dedicated his life to helping others remember how magnificent they really are. 
RÀELLA AYIZAN:
Your identity is the #1 factor that determines where you'll end up in life. While too many of us have to overcome the conditioning and programing of the world. Rae has not only overcome those identity limitations but specialized in the transformation of others. Rae is a Reiki Master, Spiritual Coach, Student of NLP (neuro linguistic programming) and facilitator of Spiritual Transformation for the Divine Feminine. Rae has helped dozens of people on their spiritual journey and empowering them to step into the magnificence of their true power! Rae believes it all begins with Self Love, and Self Worth. Begin the journey there and everything else will fall into place. 
Free Ebook: 7 Biggest Mistakes After Your Spiritual Awakening- www.7spiritualmistakes.com
Sahat and Rae's Website: www.collectiveco.com
Check out the CREATE Happy Now Podcast on iTunes, Spotify, iHeartRadio, Amazon Music, ListenNotes, Podchaster, PlayerFM, and Podbean! New episodes every week!
Join the CREATE Happy Now Facebook Group: https://www.facebook.com/groups/createhappynow/
Twitter: https://twitter.com/SusanBlanton
Instagram: https://www.instagram.com/create_happy_now
YouTube: https://www.youtube.com/@CREATEHappyNow
Check out the CREATE Happy Now Website: www.createhappynow.com