Welcome to The CREATE Happy Now Podcast dedicated to giving you a blueprint to start your journey to mastering happiness. Do you desire to have a happier more abundant life with ease and grace? Of course, we all do. Want to find out what mastering happiness could really mean for you? If you are serious about your desire to transform your life and are open minded and ready to make a change then prepare yourself to have your mind, body and soul rocked! Join me, your host, Susan Blanton, a Happiness Coach and Life Coach, as we talk to masters of happiness and their success stories! How they struggled and many of them got knocked down hard, but they found those secrets we all want to know to not only get back on their feet, but to discover a whole new world; an easier happier world!!
Episodes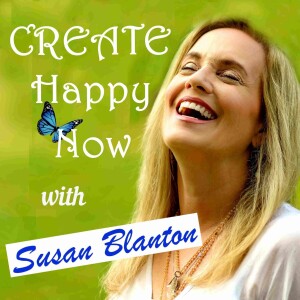 Monday Feb 27, 2023
Monday Feb 27, 2023
Rebecca and I talk about her career transition and how to be successful and happy.  She went from being a successful lawyer to becoming a happiness coach.  She helps those who are successful but struggling with finding happiness. 
Becky Morrison is a mom, wife and lawyer turned Happiness Coach. Her mission is to spread joy. She believes most people can live happier, easier lives if they get clear on what matters most to them and then develop a plan to do more of that and less of the rest. If she can help enable people to find clarity and happiness then everyone wins.
People and processes are at the heart of the work that she has done for the last 20+ years in corporations, law firms – as both a lawyer and administrator – and small businesses. Now she's using that experience coupled with her own journey to help people supercharge their success and happiness by: finding clarity; taking the next steps in their career; overcoming overwhelm; going from idea to action; and, stepping into their authentic leadership presence.
Becky brings together all her learnings in her recently published book 'The Happiness Recipe: A Powerful Guide to Living What Matters'.
Becky also comes from a basketball family – her husband is a basketball coach and both her kids play as well.
Check out the CREATE Happy Now Podcast on iTunes, Spotify, iHeartRadio, Amazon Music, ListenNotes, Podchaster, PlayerFM, and Podbean! 
Join the CREATE Happy Now Facebook Group: https://www.facebook.com/groups/createhappynow/
Twitter: https://twitter.com/SusanBlanton Instagram: https://www.instagram.com/create_happy_now
YouTube: https://www.youtube.com/@CREATEHappyNow Check out the CREATE Happy Now
Website: www.createhappynow.com