Welcome to The CREATE Happy Now Podcast dedicated to giving you a blueprint to start your journey to mastering happiness. Do you desire to have a happier more abundant life with ease and grace? Of course, we all do. Want to find out what mastering happiness could really mean for you? If you are serious about your desire to transform your life and are open minded and ready to make a change then prepare yourself to have your mind, body and soul rocked! Join me, your host, Susan Blanton, a Happiness Coach and Life Coach, as we talk to masters of happiness and their success stories! How they struggled and many of them got knocked down hard, but they found those secrets we all want to know to not only get back on their feet, but to discover a whole new world; an easier happier world!!
Episodes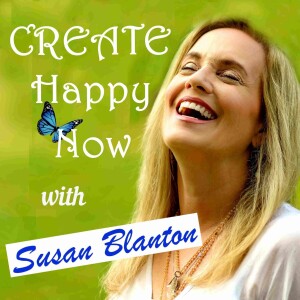 Tuesday Feb 14, 2023
Tuesday Feb 14, 2023
Kelsey and I talk about how people pleasing and gut issues can prevent happiness and mental health. Gut health and mental health are depend on each other. People pleasing can cause gut health issues and Gut health issue can cause mental health issues. We worried about what other people thought and when asked what we wanted, we didn't know what made us happy other than pleasing other people.  How we finally realized that this habit of pleasing others wasn't serving us and setting boundaries, finding our purpose and our inner wisdom is what really made us happy. 
Kelsey Abinacer is a writer and herbalist who is co-founder of Love and Flourish.  It is a new company she began with her husband, Hammed.  They offer various craft and art items as well as energy healing.  Kelsey also is very well educated in gut health.  Kelsey also works with herbs and helps people with digestive issues and we both discussed how not being regular can affect your mood, your happiness even make you angry!  It affects so many other health issues!  It can build up toxins in your body that can affect your brain!  
Check out Kelsey's website coming soon! www.weloveandflourish.com
Check out the Intuitive Masters of Happiness Conference coming up Feb 20-24.  Where for 5 days I interview 4 Intuitive Masters to learn about how Intuition is the key to happiness. 
How to discover it, communicate with it, strengthen it and master it!  They also talk about what happiness really is and that it opens up more abundance and ease into your life!   
To register for this free event go to https://susan.susanblanton-summits.com
Check out the CREATE Happy Now Podcast on iTunes, Spotify, iHeartRadio, Amazon Music, ListenNotes, Podchaster, PlayerFM, and Podbean! New episodes every week!
Join the CREATE Happy Now Facebook Group: https://www.facebook.com/groups/createhappynow/
Twitter: https://twitter.com/SusanBlanton Instagram: https://www.instagram.com/create_happy_now
YouTube: https://www.youtube.com/@CREATEHappyNow Check out the CREATE Happy Now
Website: www.createhappynow.com