Welcome to The CREATE Happy Now Podcast dedicated to giving you a blueprint to start your journey to mastering happiness. Do you desire to have a happier more abundant life with ease and grace? Of course, we all do. Want to find out what mastering happiness could really mean for you? If you are serious about your desire to transform your life and are open minded and ready to make a change then prepare yourself to have your mind, body and soul rocked! Join me, your host, Susan Blanton, a Happiness Coach and Life Coach, as we talk to masters of happiness and their success stories! How they struggled and many of them got knocked down hard, but they found those secrets we all want to know to not only get back on their feet, but to discover a whole new world; an easier happier world!!
Episodes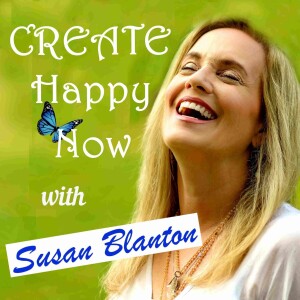 Tuesday Jul 21, 2020
Tuesday Jul 21, 2020
Michelle Mirpour has had some exciting adventures during her transformation.  She left life as she knew it and discovered what true happiness really was.  She was bold enough to make some hasty one-way ticket travel plans and dove into monk-type, Eat Pray Love-style experiences abroad that accelerated her transformation. She offers tips on how you can start your transformation even if you aren't as bold as she was. 
As her thanks to you for listening, Michelle is offering a Free 30-minute Transformation Journey Discovery Call.  Click here to book your Free 30-Minute Transformation Journey Call
and to learn more about Michelle and her offerings to the world - visit her site: www.OrganizedLifeByMichelle.com
Michelle's full interview will be broadcast September 1, 2020 Episode 17. 
For your FREE Sleep Meditation, please Subscribe, Download at least one episode, Rank and leave a Review and let me know how you like it.  Click to Download Sleep Meditation