Welcome to The CREATE Happy Now Podcast dedicated to giving you a blueprint to start your journey to mastering happiness. Do you desire to have a happier more abundant life with ease and grace? Of course, we all do. Want to find out what mastering happiness could really mean for you? If you are serious about your desire to transform your life and are open minded and ready to make a change then prepare yourself to have your mind, body and soul rocked! Join me, your host, Susan Blanton, a Happiness Coach and Life Coach, as we talk to masters of happiness and their success stories! How they struggled and many of them got knocked down hard, but they found those secrets we all want to know to not only get back on their feet, but to discover a whole new world; an easier happier world!!
Episodes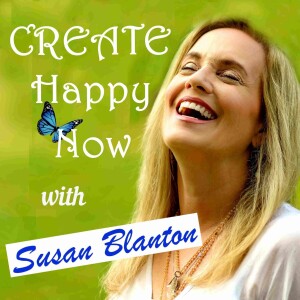 Tuesday Jul 21, 2020
Tuesday Jul 21, 2020
Katia Rudnick, designer, owner and creator of Katia Designs, created the inspirational jewelry featured on the CREATE Happy Now Podcast Cover that was instrumental in holding me accountable to do this work and it also inspired the name, CREATE Happy Now!  I am not the only client of hers who has been profoundly influenced by Katia's jewelry.  Listen in on how she makes her jewelry and her patented design and how this adventure in creating this business was her transformational story. 
For listening today, Katia is offering 10% off a customer designed piece of jewelry with FREE shipping.  Take a screen shot of what you like after looking at the many ideas and designs at Katia's website or Katia's Facebook
and PM her and make sure to mention you saw it on CREATE Happy Now Podcast for the discount. 
Katia's full interview will be broadcast August 11, 2020 Episode 14.
For your FREE Sleep Meditation, please Subscribe, Download at least one episode, Rank and leave a Review and let me know how you like it, then Click here for Free Sleep Meditation Download
as my thanks to you!