Welcome to The CREATE Happy Now Podcast dedicated to giving you a blueprint to start your journey to mastering happiness. Do you desire to have a happier more abundant life with ease and grace? Of course, we all do. Want to find out what mastering happiness could really mean for you? If you are serious about your desire to transform your life and are open minded and ready to make a change then prepare yourself to have your mind, body and soul rocked! Join me, your host, Susan Blanton, a Happiness Coach and Life Coach, as we talk to masters of happiness and their success stories! How they struggled and many of them got knocked down hard, but they found those secrets we all want to know to not only get back on their feet, but to discover a whole new world; an easier happier world!!
Episodes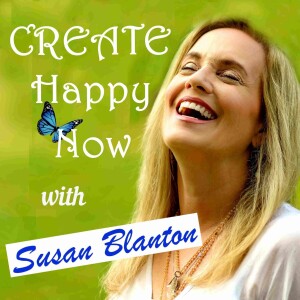 Monday Jun 21, 2021
Monday Jun 21, 2021
Sarah Routman knew just what to do with her MA in adult education: She became a laughter professional. 
Formerly a high school teacher, adjunct leadership instructor at the University of Minnesota, and Executive Director of two non-profits, she is a sought-after keynote speaker, conference presenter, and personal coach.
Thanks to her BA in English, and BFA in Photography, she created four coloring books, co-authored 'Laugh Now' and is a published photographer and poet. Her caregiver chapter in an anthology about living with chronic illness provides a new look at how to unleash joy in our most difficult moments. 
Sarah wows audiences with her expertise, enthusiasm, and highly interactive laugh-it-out approach toward event planning, corporate wellness, and personal stress management – all while providing a serious and seriously fun exercise workout! She will tickle your funny bone as she turns everything you thought you knew about laughter on its head.
Comfortable in front of large groups, Sarah is most passionate about sharing her stories of overcoming some of life's most traumatic moments with people who are facing their own life's challenges. She knows first-hand how powerful laughter is as a tool for healing. It's hard to describe the joy she feels when she is able to literally witness transformation taking place as someone become empowered to seize control of their life in ways they no longer thought possible. 
Visit Sarah's website at: 
To find more CREATE Happy Now Creations: