Welcome to The CREATE Happy Now Podcast dedicated to giving you a blueprint to start your journey to mastering happiness. Do you desire to have a happier more abundant life with ease and grace? Of course, we all do. Want to find out what mastering happiness could really mean for you? If you are serious about your desire to transform your life and are open minded and ready to make a change then prepare yourself to have your mind, body and soul rocked! Join me, your host, Susan Blanton, a Happiness Coach and Life Coach, as we talk to masters of happiness and their success stories! How they struggled and many of them got knocked down hard, but they found those secrets we all want to know to not only get back on their feet, but to discover a whole new world; an easier happier world!!
Episodes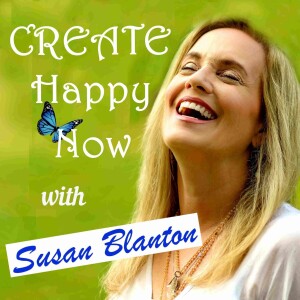 Sunday May 16, 2021
Sunday May 16, 2021
Jean Atman is a Soul Evolution Facilitator and Energy Medicine Specialist and is a leading expert on how to break free of negative life experiences for good.  She has become well known in her industry as the go-to  girl for helping people heal from toxic relationships and past traumas.  She remains fiercely dedicated to that cause and throughout her 21 year professional career has empowered over 20,000 people worldwide to live a life filed with potential, purpose and ease. 
Jean has a Bachelor of Science degree in Psychology and had studied a multitude of energetic modalities throughout her career. She opened to channel in 2011 and has been channeling guidance for her private clients and the collective consciousness ever since.  The blend of traditional and esoteric perspectives allows Jean to tap into a full spectrum of healing potential.
To find more CREATE Happy Now Creations: