Welcome to The CREATE Happy Now Podcast dedicated to giving you a blueprint to start your journey to mastering happiness. Do you desire to have a happier more abundant life with ease and grace? Of course, we all do. Want to find out what mastering happiness could really mean for you? If you are serious about your desire to transform your life and are open minded and ready to make a change then prepare yourself to have your mind, body and soul rocked! Join me, your host, Susan Blanton, a Happiness Coach and Life Coach, as we talk to masters of happiness and their success stories! How they struggled and many of them got knocked down hard, but they found those secrets we all want to know to not only get back on their feet, but to discover a whole new world; an easier happier world!!
Episodes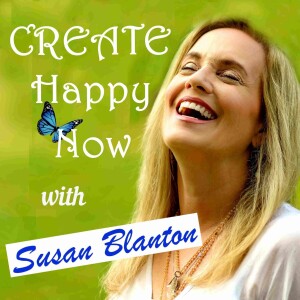 Monday Apr 19, 2021
Monday Apr 19, 2021
Jonathan Troen spent 20 years in the music and entertainment business, living the life of his dreams and interviewing the biggest stars in the world.  But he still wasn't happy.  he also found out, he wasn't alone.  So he went on a mission to find out why.  Once he learned the secrets of true happiness and success, he had to share it with others.  This was the beginning of the Self Love Revolution. 
Jonathan helps successful entrepreneurs transition from self sabotage to self love, so they can enjoy their life, business, and bank account at the same time.   His mission is to help people find the joy inside of themselves.  He says that we are our own worst enemies, and in the case of entrepreneurs, our own worst bosses.  We need to become our own best friends, and our own best bosses, so that we can fully share our gifts with the world. 
Get Jonathan's free Fear to Friend Cheat Sheet
https://go.selfloverevolution.com/fearcheatsheet
Social Media Links:
Website: https://www.SelfLoveRevolution.com
Facebook: https://www.facebook.com/jonathantroen
Instagram: https://www.instagram.com/jonathantroen/
LinkedIn: https://www.linkedin.com/in/troen/
YouTube: https://www.youtube.com/channel/UCehyk1DzmlXj8f6VVok6I5w/
Clubhouse: @JonathanTroen
For more CREATE Happy Now courses, books, live events, blog etc. 
Website: https://www.createhappynow.com/
Facebook: https://www.facebook.com/groups/createhappynow
YouTube: https://www.youtube.com/channel/UCm-t5sMjvxyvNOkeXrEG5rg
Instagram: https://www.instagram.com/susanblanton88/
Twitter: @SusanBlanton