Welcome to The CREATE Happy Now Podcast dedicated to giving you a blueprint to start your journey to mastering happiness. Do you desire to have a happier more abundant life with ease and grace? Of course, we all do. Want to find out what mastering happiness could really mean for you? If you are serious about your desire to transform your life and are open minded and ready to make a change then prepare yourself to have your mind, body and soul rocked! Join me, your host, Susan Blanton, a Happiness Coach and Life Coach, as we talk to masters of happiness and their success stories! How they struggled and many of them got knocked down hard, but they found those secrets we all want to know to not only get back on their feet, but to discover a whole new world; an easier happier world!!
Episodes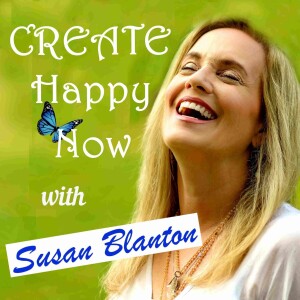 Sunday Jan 03, 2021
Sunday Jan 03, 2021
Nick Taubenslag joins his mother Debra in this episode offering his wisdom and insight as living proof that his mother succeeded in maximizing his developmental potential by leaving No Stone Unturned. 
On Episode 27, Nick's mother, Debra, tells us the story of how she found herself with a miracle baby boy born at 29 weeks 35 years ago.  A baby she was told she couldn't have and now she's told this baby may not survive.  At this moment, she only cared about her son thriving not just surviving.  Debra was on a quest to heal her son.  She would not believe the doctors and started her journey of awakening herself.  During this process, she claims her son actually saved her!   
Debra sought everything under the sun to find answers, hence the title No Stone Unturned.  She started to believe in miracles even seeking alternative and metaphysical modalities to find treatments she intuitively felt were meant for her son.  Now her son Nick, age 35, continues her work and Debra helps clients with transformational change by awakening clients to their highest potential and calling by utilizing spiritual hypnosis, healing and intuitive consulting.   
Debra's book, No Stone Unturned, will be available for 99 cents for 1 day only January 14th on Amazon and the paperback will be available for purchase January 24th. 
You can reach out to Debra for a free Tri-Harmony "Morning Momentum" training which includes the Alignment Meditation by going to www.DebraTaubenslag.com
Check out the CREATE Happy Now Podcast on iTunes, Spotify, Stitcher, iHeartRadio, Amazon Music, Deezer and Podbean! New episodes every Tuesday! Join the
CREATE Happy Now Facebook Group: https://www.facebook.com/groups/createhappynow/
Twitter: https://twitter.com/SusanBlanton
Instagram: https://www.instagram.com/create_happy_now
Check out the CREATE Happy Now Website: www.createhappynow.com
***Want to start your own podcast???***
If you want to start today and have your podcast up and running and ranked within 6 weeks! You HAVE to use this training! It's what I used and you will get SOOOO much value for your money. Change your life, have fun, learn how to market yourself and actually be held accountable to actually LAUNCH YOUR PODCAST! I did and you can too!! Go here right now! https://aff.podcastprofitlab.co/17187/58927