Welcome to The CREATE Happy Now Podcast dedicated to giving you a blueprint to start your journey to mastering happiness. Do you desire to have a happier more abundant life with ease and grace? Of course, we all do. Want to find out what mastering happiness could really mean for you? If you are serious about your desire to transform your life and are open minded and ready to make a change then prepare yourself to have your mind, body and soul rocked! Join me, your host, Susan Blanton, a Happiness Coach and Life Coach, as we talk to masters of happiness and their success stories! How they struggled and many of them got knocked down hard, but they found those secrets we all want to know to not only get back on their feet, but to discover a whole new world; an easier happier world!!
Episodes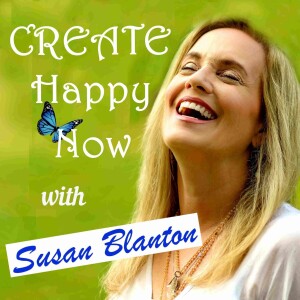 Monday Nov 30, 2020
Monday Nov 30, 2020
Meghan and Susan discuss how Meghan worked with the author, Don Miguel Ruiz Jr, of the Four Agreements, became a shamanic healer and how following her intuition helped her take leaps of faith many times throughout her life. 
Meghan Gilroy mentors soul-led entrepreneurs, coaches and healers to amplify your inner light, sync up with your soul and nurture a life & business that uniquely reflect YOU. Her soul's calling is to gather a tribe of fully shining woman leading our world to support each other to be of deep service to the planet.
As a sought-after business mentor, spiritual teacher and a powerful shamanic healer, she delights in combining her intuitive, spiritually minded talents and hardcore business knowhow from building multiple 7-figure businesses. She helps her clients identify how you can share your unique gifts, express your authentic message and "get out there" in a way that feels right, makes money and makes a difference.
You can connect with Meghan through www.meghangilroy.com or join her tribe at www.facebook.com/groups/fullyshiningwomen/. If you would like her powerful Set Your Intentions Guided Meditation to tap into how you want to FEEL given your energy level and then know exactly what to FOCUS on in your life or business, visit http://bit.ly/intentionsmeditation.
Website: www.meghangilroy.com
Personal Facebook Page: https://www.facebook.com/meghan.gilroy.1
Business Facebook Page: https://www.facebook.com/meghangilroycoaching/
Instagram: https://www.instagram.com/meghangilroy/
LinkedIn: https://www.linkedin.com/in/meghanmcchesneygilroy/
YouTube: https://www.youtube.com/channel/UCWDHWw98qTcwXZS2hhd-hEw