Welcome to The CREATE Happy Now Podcast dedicated to giving you a blueprint to start your journey to mastering happiness. Do you desire to have a happier more abundant life with ease and grace? Of course, we all do. Want to find out what mastering happiness could really mean for you? If you are serious about your desire to transform your life and are open minded and ready to make a change then prepare yourself to have your mind, body and soul rocked! Join me, your host, Susan Blanton, a Happiness Coach and Life Coach, as we talk to masters of happiness and their success stories! How they struggled and many of them got knocked down hard, but they found those secrets we all want to know to not only get back on their feet, but to discover a whole new world; an easier happier world!!
Episodes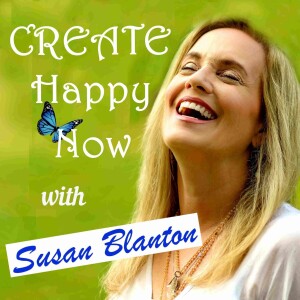 Monday Nov 23, 2020
Monday Nov 23, 2020
John Stringer is a life teacher, speaker, Billboard Charting signer-songwriter, healer, and author with a passion for music, community, and limitless love and light.  He teaches others how to access genius through a spiritual path, creative path or intuitive path and is the Founder of PolyPlat Records, a Partner a Healing Arts Management and ConsciousSongwritingRetreat.com, Co-host of Awakened Pillow Talk podcast, Co-Founder of MasterMomentMakers.com, and a True Collaboration leader at BandingPeopleTogether.com, whose clients include leaders at Netflix, Focus Brands, Home Depot, Cisco, Microsoft, NASA, ESPN, SunTrust and many more. 
He now travels extensively, making appearances at concerts, colleges, workshops, spiritual centers, churches, conferences, retreats, festivals, and more globally.  He shares his message of healing through songs featured on his debut solo album, "Limitless Love & Light", featuring the Posi Award-nominated song "That's Love", and his follow up album, "Moment to Moment (Live)". He also shares inspried teachings with his audience, some of which can be found in his new book The Abundance Vibration: A Guide to Alignment.  His songs are currently being used as the theme music for the Canadian Institute for Natural Integrative Medicine, Life University, the City of Hapeville, drawChange.org, Special Needs Certified, Orlando Pranic Healing Centers and other amazing organizations spreading love in their own way. 
For more information about John Stringer, upcoming events, downloads go to www.johnstringerinc.com
To enjoy John's morning meditation, go to: 
https://www.johnstringerinc.com/align-release-overwhelm-lack/
Follow John on these social media links:
https://www.facebook.com/johnstringer1111/
https://www.instagram.com/john.h.stringer/
https://www.youtube.com/user/JohnHStringer?sub_confirmation=1
https://twitter.com/johnstringer
_______________________________________________________________________________________
Calling all MILLENIALS who want to DROP THE DRAMA and stop saying "FML" and step into a life of ABUNDANCE AND EASE or ZEN!! This training will be limited so make sure to also stay tuned to the CREATE Happy Now Podcast and YouTube Channel for additional announcements or sign up below!
Susan's Free FML to Zen Workshop before 2021
Sign up to be first to be notified: https://lp.constantcontactpages.com/su/10hrt8w/FMLTOZEN
You can also go to www.createhappynow.com
Look for the cozy chair on the beach!
Check out the CREATE Happy Now Podcast on iTunes, Spotify, Stitcher, iHeartRadio, Amazon Music, Deezer and Podbean! New episodes every Tuesday! Join the
CREATE Happy Now Facebook Group: https://www.facebook.com/groups/createhappynow/
Twitter: https://twitter.com/SusanBlanton
Instagram: https://www.instagram.com/create_happy_now
Check out the CREATE Happy Now Website: www.createhappynow.com
***Want to start your own podcast???***
If you want to start today and have your podcast up and running and ranked within 6 weeks! You HAVE to use this training! It's what I used and you will get SOOOO much value for your money. Change your life, have fun, learn how to market yourself and actually be held accountable to actually LAUNCH YOUR PODCAST! I did and you can too!! Go here right now! https://aff.podcastprofitlab.co/17187/58927