Welcome to The CREATE Happy Now Podcast dedicated to giving you a blueprint to start your journey to mastering happiness. Do you desire to have a happier more abundant life with ease and grace? Of course, we all do. Want to find out what mastering happiness could really mean for you? If you are serious about your desire to transform your life and are open minded and ready to make a change then prepare yourself to have your mind, body and soul rocked! Join me, your host, Susan Blanton, a Happiness Coach and Life Coach, as we talk to masters of happiness and their success stories! How they struggled and many of them got knocked down hard, but they found those secrets we all want to know to not only get back on their feet, but to discover a whole new world; an easier happier world!!
Episodes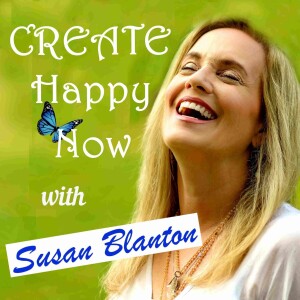 Monday Nov 16, 2020
Monday Nov 16, 2020
Tom T. Moore is an award-winning author, speaker, and is in the entertainment business, where for over 35 years he has been president and CEO of his own international motion picture and TV program distribution business, based in Plano, Texas. During this time, he has traveled extensively as part of his business duties to international film markets held in Cannes, Milan, Los Angeles, and Budapest.
He is the author of five books: The Gentle Way: A Self-Help Guide For Those Who Believe in Angels, The Gentle Way II: The Story Continues, The Gentle Way III: Master your life, First Contact: Conversations With An ET, and Atlantis and Lemuria: The Lost Continents Revealed! (Light Technology) Visit his website at www.TheGentleWayBook.com.
The Gentle Way books provide a simple, yet powerful tool for everyday use that is a giant step forward from The Law of Attraction, and include hundreds of stories sent to Mr. Moore from all over the world, from people living The Gentle Way. Tom was voted "Best Self-Help Author" for three straight years by the readers of a health magazine.  He has utilized the Gentle Way in both his professional and personal life. 
Tom is one of those rare people who is also a telepath, and has allowed him in a meditative state to provide detailed information about extra-terrestrials, Earth's history, and the lost continents of Atlantis and Lemuria in his book and speaking engagements. 
Example Most Benevolent Outcome requests:
General for yourself:
     "I request a most benevolent outcome for _____. Thank you!"
General on behalf of someone else:
     "I ask any and all beings to _____. Thank you!"
When concerned about a dream:
     "I request a most benevolent outcome for anything that will occur in my physical world that this dream may have referred to. Thank you!"
Articles and blog written by Tom T. Moore:
http://www.thegentlewaybook.com/articles.htm
http://www.thegentlewaybook.com/blog/
Don't forget to say:
   "I expect great things today, great things tomorrow and I expect great things for the rest of this week."
Tom's MBO for CREATE Happy Now listeners:
    "I request a most benevolent outcome on the results of viewing this program to be even better than I can hoped for expect, thank you!"
Tom's quote:
Love everyone unconditionally and you will raise your vibration.
_______________________________________________________________________________________
Calling all MILLENIALS who want to DROP THE DRAMA and stop saying "FML" and step into a life of ABUNDANCE AND EASE or ZEN!! This training will be limited so make sure to also stay tuned to the CREATE Happy Now Podcast and YouTube Channel for additional announcements or sign up below!
Susan's Free FML to Zen Workshop before 2021
Sign up to be first to be notified: https://lp.constantcontactpages.com/su/10hrt8w/FMLTOZEN
You can also go to www.createhappynow.com
Look for the cozy chair on the beach!
Check out the CREATE Happy Now Podcast on iTunes, Spotify, Stitcher, iHeartRadio, Amazon Music, Deezer and Podbean! New episodes every Tuesday! Join the
CREATE Happy Now Facebook Group: https://www.facebook.com/groups/createhappynow/
Twitter: https://twitter.com/SusanBlanton
Instagram: https://www.instagram.com/create_happy_now
Check out the CREATE Happy Now Website: www.createhappynow.com
***Want to start your own podcast???***
If you want to start today and have your podcast up and running and ranked within 6 weeks! You HAVE to use this training! It's what I used and you will get SOOOO much value for your money. Change your life, have fun, learn how to market yourself and actually be held accountable to actually LAUNCH YOUR PODCAST! I did and you can too!! Go here right now! https://aff.podcastprofitlab.co/17187/58927