Welcome to The CREATE Happy Now Podcast dedicated to giving you a blueprint to start your journey to mastering happiness. Do you desire to have a happier more abundant life with ease and grace? Of course, we all do. Want to find out what mastering happiness could really mean for you? If you are serious about your desire to transform your life and are open minded and ready to make a change then prepare yourself to have your mind, body and soul rocked! Join me, your host, Susan Blanton, a Happiness Coach and Life Coach, as we talk to masters of happiness and their success stories! How they struggled and many of them got knocked down hard, but they found those secrets we all want to know to not only get back on their feet, but to discover a whole new world; an easier happier world!!
Episodes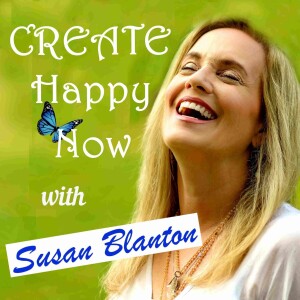 Tuesday Jul 26, 2022
Tuesday Jul 26, 2022
Dr. Kasia Kines, author of The Epstein-Barr Virus Solution, is my guest today.  Her book was my bible for getting through Epstein Barr.  I had a lot of questions, fears, and too tired to figure it out on my own.  Her book has everything you need to know about EBV and getting your life back!   Also, she has a website called www.ebvhelp.com with tons of exactly what it says "help"!  From a quiz on where you may be at healthwise and if you suspect you might have EBV, to courses, programs, protocols, 1:1 with Dr. Kines sessions, recipes, and more!  Here is an excerpt from her website: 
"Do you feel like your life has been stripped away by Epstein-Barr Virus no matter how hard you try, how many doctors you see, and how many therapies you try? How many more diagnoses and autoimmune disorders will you get? How many more years will your life be in pain, brain fog and disabling fatigue?
I've been there with some of my own clients too, hitting the wall and not being able to help them all the way no matter what I did. My a-ha moment came when I discovered that EBV was behind some of these "mysteries".
I did not stop until I developed an entire recovery process, the only existing evidence-based and proven recovery methodology for EBV. My promise to you is that if you struggle from EBV and follow this process, you too will be able to reclaim your life."
Click the links below for: 
Dr. Kines' resource website www.ebvhelp.com for quiz, testing, programs and schedule 1:1 with Dr. Kines.
Epstein-Barr Virus Solution book at Amazon
YouTube Video link to CREATE Happy Now podcast:
The Mystery Virus I had and you might have too and Dr. Sloan to the rescue!
https://youtu.be/bBuYmWIf0u0