Welcome to The CREATE Happy Now Podcast dedicated to giving you a blueprint to start your journey to mastering happiness. Do you desire to have a happier more abundant life with ease and grace? Of course, we all do. Want to find out what mastering happiness could really mean for you? If you are serious about your desire to transform your life and are open minded and ready to make a change then prepare yourself to have your mind, body and soul rocked! Join me, your host, Susan Blanton, a Happiness Coach and Life Coach, as we talk to masters of happiness and their success stories! How they struggled and many of them got knocked down hard, but they found those secrets we all want to know to not only get back on their feet, but to discover a whole new world; an easier happier world!!
Episodes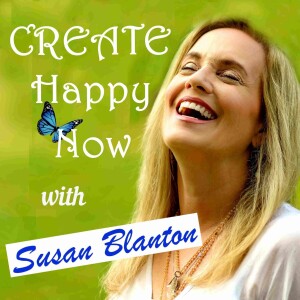 Tuesday Dec 27, 2022
Tuesday Dec 27, 2022
Didier Koffi is a light worker who specializes in developing sacred relationships with Divine entities. Didier facilitates sacred and safe communications/mediumship for individuals whose loved ones have passed away. Didier has helped more than 250 departed souls cross into the light when they needed assistance to do so.
Didier's services are deeply aligned with his spiritual gifts and are facilitated by unconditionally loving and divinely appointed spiritual guides.
He can help you develop your spiritual gifts in a safe way that empowers you to be healthy and wealthy and wise and speak your truth.
Didier and his spouse, Lois, offer spiritual healing retreats centered on the following themes:  
Ancestral healing and trauma release
Connecting with your Higher Self
Living your true nature and purpose
Developing your mediumship abilities in a safe/sacred setting
https://ghost-whisperer-painter.now.site/home
Check out the CREATE Happy Now Podcast on iTunes, Spotify, , iHeartRadio, Amazon Music, ListenNotes, Podchaster, PlayerFM, and Podbean! New episodes every Tuesday!
Join the CREATE Happy Now Facebook Group: https://www.facebook.com/groups/createhappynow/
Twitter: https://twitter.com/SusanBlanton
Instagram: https://www.instagram.com/create_happy_now
Check out the CREATE Happy Now Website: www.createhappynow.com
***Want to start your own podcast???***
If you want to start today and have your podcast up and running and ranked within 6 weeks! You HAVE to use this training! It's what I used and you will get SOOOO much value for your money. Change your life, have fun, learn how to market yourself and actually be held accountable to actually LAUNCH YOUR PODCAST! I did and you can too!! Go here right now! https://aff.podcastprofitlab.co/17187/58927