Welcome to The CREATE Happy Now Podcast dedicated to giving you a blueprint to start your journey to mastering happiness. Do you desire to have a happier more abundant life with ease and grace? Of course, we all do. Want to find out what mastering happiness could really mean for you? If you are serious about your desire to transform your life and are open minded and ready to make a change then prepare yourself to have your mind, body and soul rocked! Join me, your host, Susan Blanton, a Happiness Coach and Life Coach, as we talk to masters of happiness and their success stories! How they struggled and many of them got knocked down hard, but they found those secrets we all want to know to not only get back on their feet, but to discover a whole new world; an easier happier world!!
Episodes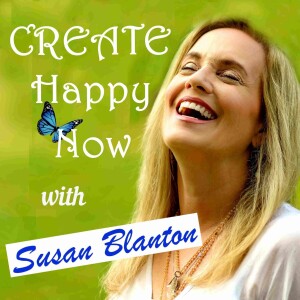 Tuesday Aug 09, 2022
Tuesday Aug 09, 2022
Lois Koffi,  host of the Healthy Wealthy and Wise Podcast, is my guest today.  She and I were podcast students together and we both talk about our journeys since we started podcasting.  Lois talks about what has changed for her since she started her podcast; her struggle with addiction, shame, lack of self love and how the focus on her business changed.  She discovered her true self and redesigned the focus of her business as heart centered and is now a Magnetic Mind Healer and has a Mindset in Sales Mastery Membership. 
Lois Koffi is a professional speaker and transformational sales coach that has coached thousands of people in business and healthy lifestyles since the year 2000. 
As a former Ironman Triathlete, Lois' super power is creating more in less time in a balanced way. 
With now over 23 years experience in sales and coaching (as well as success and failures), her passion is to help YOU create your BEST life - best healthy, best wealth, and best Wisdom along the sales path. 
She helps co-create that with you, walking alongside you, in magnetizing what it is you TRULY want to manifest for your highest good. 
She is a mom of 3 and is happily married. 
She is over 200 and 25000 downloads into her podcast she launched in 2020.  You can find her Top 20 Podcast, Healthy N Wealthy N Wise at www.healthynwealthynwise.com
You can also find Lois at www.loiskoffi.com 
Check out her podcast at www.loiskoffi.com/podcast
For more resources from Lois go to www.loiskoffi.com/resources
If you would like to be a part of Lois community and get 1 month complimentary membership to her Mindset in Sales Mastery membership, email Lois at Lois@loiskoffi.com and tell her you heard about this opportunity on the CREATE Happy Now podcast!  
To learn more about Susan Blanton go to www.createhappynow.com or
check out her YouTube Channel at https://www.youtube.com/c/CREATEHappyNow